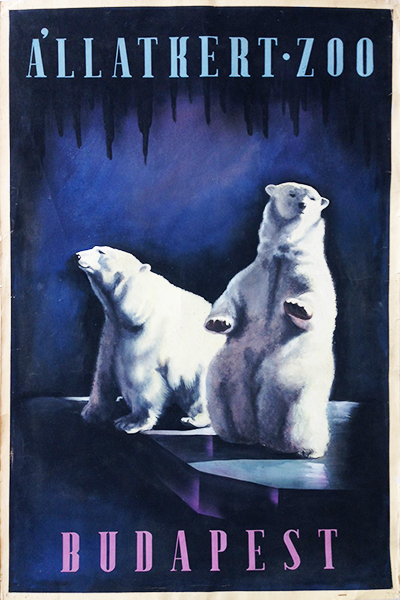 Description:
Budapest Zoo is a beautiful original design for a poster, created in the 1930s by Geza Bato. The design was probably made for a poster tender, organized by the Budapest Zoo. On the back, the name of the author and also his pseudonym chosen for the tender (Zoo 9) are visible. The design probably didn't win at the tender because there is no poster version known of the composition. Other posters with the exact same title appeared in 1930, 1931 and 1937. The title was usually given at a tender, so the publication date of other compositions let us suggest the date of this design.
This artwork was created by Géza Bató. He was an illustrator and caricaturist, working for several important Hungarian caricature papers in the 20th century, such as Ludas Matyi, Füles, Pesti Posta or Fűrész. Here we can see the gentle side of his graphic art. He captured the scene with the two polar bears standing and sitting on the ice inside a cave in the Zoo in a lyrical way. The composition shows an influence of Art Deco, which was a dominant tendency in the Hungarian and international poster art at the time. The style enchanted the world right after its emergence in the the Decorative Arts Exposition of Paris in 1925. Its most important international representative was A. M. Cassandre.
Bató employed dark black and blue shades here with the light purple and the white to create an elegant atmosphere. The fur of the polar bears is painted with a slow, tender brush work, resulting in a detailed presentation with a soft transition of colours, and an emphasis on the texture. These polar bears seem so fluffy that we would like to fondle them. It is caused by also the stylized portrayal of their faces that they look quite kind, and less likely as a wild animal. The harmony of colours, the charming representation of the figures and the simple, but well-chosen visual tools display an attractive Art Deco composition together. This design highlights the exotic nature of the Zoo and completes it with a sleek typographic design.
The Zoo is one of the most important tourist destinations in Budapest, with its historical buildings and large green spaces. The zoo usually ordered posters with high artistic quality. This work by Géza Bató is a very elegant, decorative and at the same time modern piece.
Geza Bato was an illustrator, caricaturist. He was employed for several important Hungarian caricature papers, such as Ludas Matyi and Füles. He was also working for the legendary Pesti Posta, or the Fűrész humour paper.
He created several Socialist Realist posters in the end of the 1940s and the first part of the 1950s.