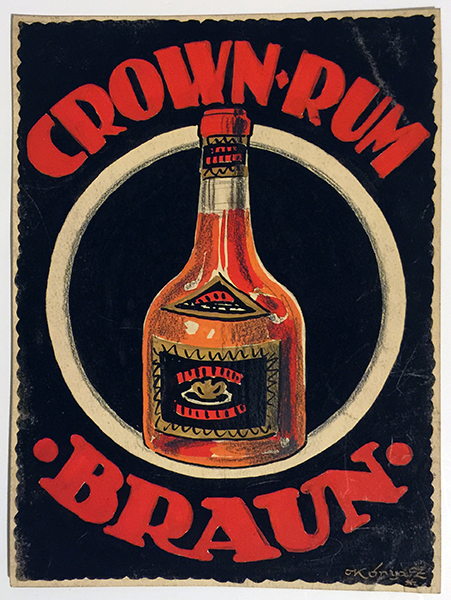 Braun Crown Rum
Hungarian title:
Braun Crown Rum
Size:
A5 1/16 Sheet (cca. 15 x 21 cm)
Price: US$2400
Description:
Painted artwork from the 1920s by Zoltan Konya. This maquette was commissioned by the 'Braun Brothers Company'. Now the 'Braun Crown Rum' was the product of which the artist created a design. However, the aim of it is questionable, as it could be either an advertisement, or a label or any other part of the packaging.
The history of the company takes us back to the 19th century when the formation of the Hungarian liqueur industry happened. The first companies were established from former small royal leaseholds. The production was personally controlled by the company owners who often dealt with wine trade, spirit and vinegar production as well, to ensure financial profit. The same was true about the very first Hungarian liqueur company, founded in 1839 by Lajos Braun. The 'Braun Liqueur Company' became well-known soon and won several medals of international and local exhibitions. During the second part of the century, the company offered cognac, brandy and rum. After the death of Lajos, the entrepreneurship was lead by his sons and its name was changed to 'Braun Brothers'. Around the turn of the century, a bigger and bigger competition started in the field of liqueur industry as many other fine brands emerged and gained popularity. However, Géza Braun composed a new kind of liqueur, called St. Hubertus, which gained a huge reputation and could maintain success for the factory. With further other products like the 'Braun Brandy' or the 'Braun Cherry Brandy', the company made it to the top in the 1930s and made a trade of 6 million pengős. The business passed from father to son until it was socialized in 1949. After the fall of the socialist regime, the 'Zwack Unicum Company' won the right of the production of St. Hubertus which is still one of the popular alcoholic beverages today.
This maquette was created around 1920, one decade before the peak period of the company. It is possible that it wasn't a poster maquette as it doesn't contain any inscription and the representation of the product is not detailed. Nevertheless, the highly stylized depiction of the product is elegant, at the same time it has a lovely, cartoon-like character. It appears at the centre of the design, surrounded by a light-coloured circle around which the words 'Braun' and 'Rum' are captured in thick red letters, in a curve, following the shape of the circle. The lines and forms are in harmony, together with the black, red, brown and beige colours of the design. The result is a charming and attractive concentrated composition.
sources:
http://hvg.hu/magyarmarka/20050325braunhubertus
www.huszadikszazad.hu