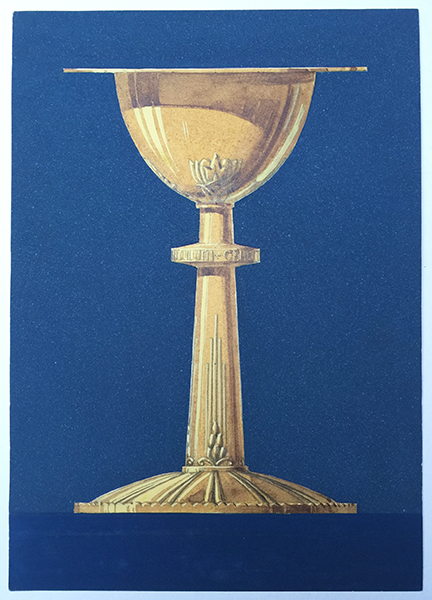 Description:
Wonderfully detailed Art Deco chalice design. Observing the style of the maquette, we can get to the conclusion that it was created in the 1930s. The designer of the maquette was Viktória Bagóczki, a Hungarian graphic artist in the 20th century whose drawings, graphic designs and maquettes can appear time after time from the past. It is interesting to see the variety of her works: she designed pitchers, cups, vases, but she also created advertisement designs and portraits of people and plants. This work is a special piece as it was commissioned for religious reasons: it is a chalice design.
"In Roman Catholicism, Eastern Orthodoxy, Oriental Orthodoxy, Anglicanism, Lutheranism and some other Christian denominations, a chalice is a standing cup used to hold sacramental wine during the Eucharist (also called the Lord's Supper or Holy Communion). Chalices are often made of precious metal, and they are sometimes richly enameled and jeweled. […]
Chalices have been used since the early church. Because of Jesus' command to his disciples to "Do this in remembrance of me." (Luke 22:19), […] the celebration of the Eucharist became central to Christian liturgy. Naturally, the vessels used in this important act of worship were highly decorated and treated with great respect. [...] Over time, […] official church regulations dictated the construction, blessing, and treatment of chalices.
In Western Christianity, chalices will often have a pommel or node where the stem meets the cup to make the elevation easier. In Roman Catholicism, chalices tend to be tulip-shaped, and the cups are quite narrow."
(source: wikipedia.org)
The chalice, designed by Bagóczki, was an Art Deco piece. It is worth mentioning that already around the turn of the century, applied arts, involving metal crafts, were flourishing. The works of that time were characterised by the Art Nouveau richness in floral motifs and other highly decorative, filigrane ornaments. However, this chalice depicts the features of the Art Deco era: still decorated, but more stylized nature, clear structure and a bigger emphasis on geometrical beauty.