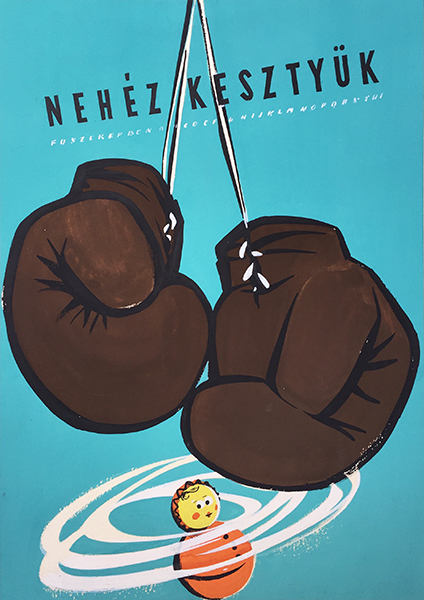 Heavy Gloves
Hungarian title:
Nehéz kesztyűk
Size:
A4 (cca. 29 x 21 cm)
Material:
Paint on cardboard.
Price: US$1200
Description:
Heavy gloves is a poster by Olga Tovisvary from 1957 for a movie.
The Hungarian movie was directed by Dezso Varasdy and the plot is about Laszlo Papp the famous Hungarian boxing player who also acts in the main role.
László Papp (March 25, 1926 – October 16, 2003) was a Hungarian professional boxer from Budapest. A southpaw, he won gold medals in the 1948 Summer Olympics in London, the 1952 Summer Olympics in Helsinki, and the 1956 Summer Olympics held in Melbourne, Australia. In his final Olympic competition, he beat José Torres later the professional light-heavyweight world champion, for the gold medal, to become the first boxer in Olympic history to win three successive gold medals. It was a remarkable run of Olympic Boxing supremacy, in that of his 13 Olympic fights, he won 12 of them without losing a round, and dropped only a single round in his last final - to Torres. There would not be another triple gold medalist for 20 years, when Teófilo Stevenson won three, followed by Félix Savón as the latest one of the three men to accomplish the feat. (source: wikipedia.org)