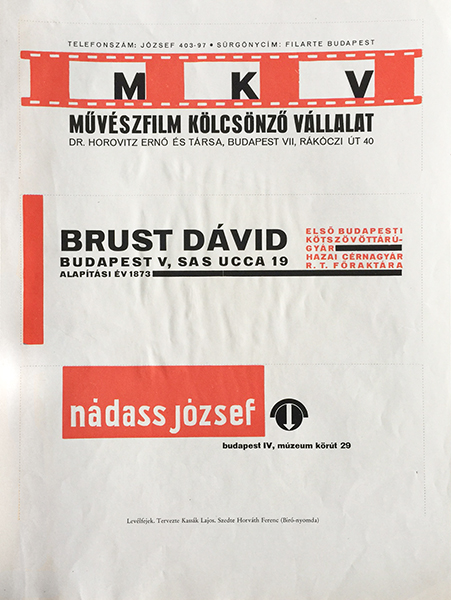 Modernist letterhead designs
Hungarian title:
Levélfejek. Tervezte: Kassák Lajos
Size:
A4 (cca. 29 x 21 cm)
Condition:
Fine, light wear and wavy paper.
Material:
Paper, letterpress.
Price: US$400
Description:
These printed Avant garde letterhead designs were included in an issue of Magyar Grafika - an important and scarce journal -, in 1928.
Lajos Kassak (March 21, 1887 – July 22, 1967) was a central figure of the Hungarian avant-garde movement, a writer, painter, designer, and labour organiser. Although he was one of the founders of the modernist poster style in Hungary in the 1920s, only a few of his posters have survived. Kassak did not attend university, he was completely self-taught. His work and theoretical writings about poster art and advertising had a huge impact on Hungarian commercial graphic design.In the history of Hungarian poster art, Kassak is considered one of the founders of modernism, and one of the most prominent theoretical writers. We know only a few of his posters and original designs. This rare poster bears the characteristics of modernism as well as Kassak's unique style.