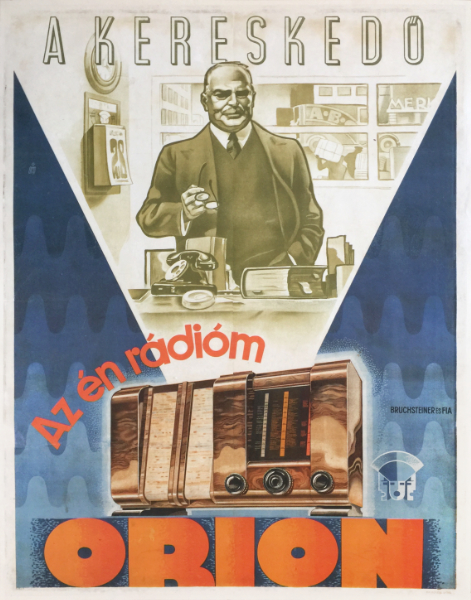 Orion 56 Radio - The merchant - My radio is Orion
Hungarian title:
Orion 56 Rádió - A kereskedő - Az én rádióm Orion
Size:
Pre-war 2 Sheet (cca. 95 x 126 cm)
Condition:
Very good, backed on linen, restored tears and paper loss.
Material:
Paper, stone lithography.
Price: US$6000
Description:
Advertising poster of the Orion company by their long-time head of design, József Bottlik. Bottlik didn't only create the majority of the Orion posters, but the company's logo is also attributed to him. The emblem alludes to Janus, the two-headed creature in the antique mythology representing the multiple directions sound can spread into. The company's image was determined by Bottlik's logo even following World War II. The modern emblem looked great on posters where the composition was dominated by it as well as on those where it was used as a design element that accompanied the advertised product - just like on this one.
The composition shows the characteristics the of Bottlik's Art Deco style in the interwar period, however this is a late piece. In the late 1930s the modernist and Art Deco trends of the earlier decades somewhat altered. The new tendency showed the use of softer transitions between colours, what can be seen on this design as well, however here the typography is closer to the modernist manner. The style of this poster is a great example of the time of changing trends in Hungarian graphic design.
This unique poster displays the 'tradesman' on the top (according to the inscription). He is in his office with a view on the street. Looking out the window gives a little insight to the atmosphere of the city before the war. His office shows the interior elements typical of the era: the wall calendar, telephone, clock, whereas the man's suit and the glasses in his hand are examples of man's fashion at the time. At the bottom of the composition the advertised object, the Orion radio is shown in a beautiful manner; the wooden texture of the device is created by soft, careful painted brushwork. The upper part looks as if the tradesman is standing in the spotlight provided by the radio.
This complex composition perfectly compacts the trends of an era in terms of graphic design, fashion, home appliances and interior design.