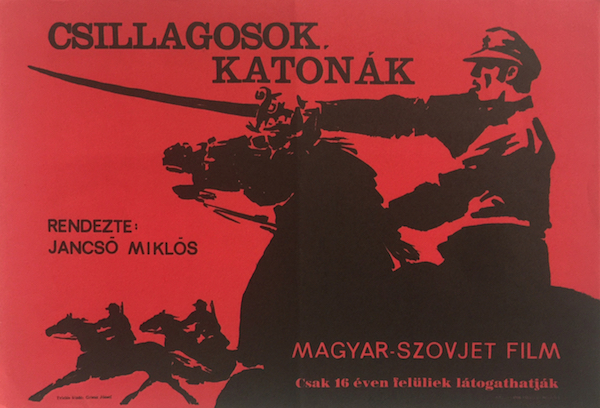 Red and the White, The
Hungarian title:
Csillagosok, katonák
Size:
B4 (cca. 25 x 35 cm)
Condition:
Fine, light wear.
Material:
Paper, offset lithography.
Price: US$400
Description:
The Red and the White is a 1967 vintage Hungarian movie poster designed by Laszlo Banki for a film directed by Miklos Jancso.
The Red and the White is a 1967 Hungarian - Russian co-production film directed by Miklós Jancsó and dealing with the Russian Civil War. The original Hungarian title, Csillagosok, katonák, can be translated as "Stars on their Caps" (literally 'starries, soldiers'), which, as with a number of Jancsó film titles, is a quote from a song. The film was listed to compete at the 1968 Cannes Film Festival, but the festival was canceled due to the events of May 1968 in France. It was voted as "Best Foreign Film of 1969" by the French Syndicate of Cinema Critics.
In 1919, Hungarian Communists aid the Bolsheviks' defeat of Czarists, the Whites. Near the Volga, a monastery and a field hospital are held by one side then the other. Captives are executed or sent running naked into the woods. Neither side has a plan, and characters the camera picks out soon die. A White Cossack officer kills a Hungarian and is executed by his own superiors when he tries to rape a milkmaid. At the hospital, White officers order nurses into the woods, dressed in finery, to waltz. A nurse aids the Reds, then they accuse her of treason for following White orders. Red soldiers walk willingly, singing, into an overwhelming force. War seems chaotic and arbitrary.