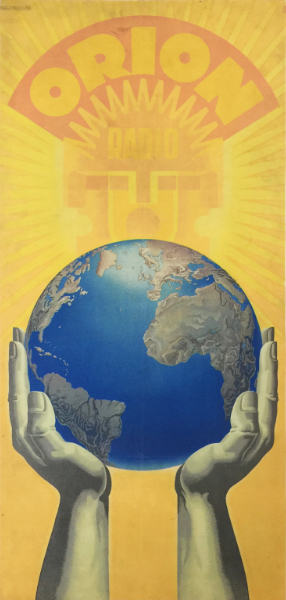 Orion radio
Hungarian title:
Orion
Size:
Pre-war 1,5 sheet (cca. 63 x 126 cm)
Condition:
Fine, restored, backed on Japanese paper, side borders trimmed.
Material:
Paper, stone lithography.
Price: US$20000
Description:
Original vintage Hungarian commercial poster by Jozsef Bottlik from 1938.
Jozsef Bottlik was the long-time head designer of the Orion company. Bottlik didn't only create the majority of the Orion posters, but the company's logo is also attributed to him. The emblem alludes to Janus, the two-headed creature in the antique mythology representing the multiple directions sound can spread into. The company's image was determined by Bottlik's logo even following World War II. The modern emblem looked great on posters where the composition was dominated by it as well as on those where it was used as a design element that accompanied the advertised product - just like on this one.
The composition shows the characteristics the of Bottlik's Art Deco style in the interwar period, however this is a late piece. In the late 1930s the modernist and Art Deco trends of the earlier decades somewhat altered. The new tendency showed the use of softer transitions between colours, what is apparent on this design as well.
The composition focuses on two hands holding the globe. This a reference to the message that if one owns a radio, the person will become informed about global matters. This image occupies the lower half of the poster, while the Orion logo fills the upper half. Despite the more or less balanced proportions, the logo is more subtle due to the colour only a few shades different from the background and the gently fading colours.