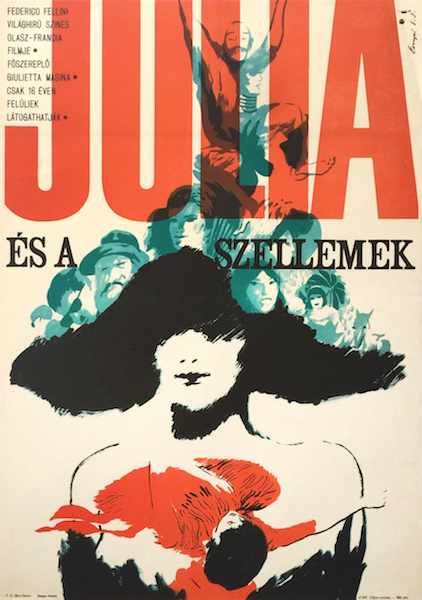 Juliet of the Spirits
Hungarian title:
Júlia és a szellemek
Size:
A2 1/2 Sheet (cca. 59 x 42 cm)
Condition:
Fine, light fold marks and wear.
Material:
Paper, intaglio.
Price: US$700
Description:
Juliet of the Spirits is a 1967 Hungarian vintage movie poster for a Federico Fellini film designed by Sandor Ernyei.
Juliet of the Spirits (Italian: Giulietta degli spiriti) is a 1965 Italian-French fantasy comedy-drama film directed by Federico Fellini and starring Giulietta Masina, Sandra Milo, Mario Pisu, Valentina Cortese, and Valeska Gert. The film is about the visions, memories, and mysticism of a middle-aged woman that help her find the strength to leave her philandering husband. The film uses "caricatural types and dream situations to represent a psychic landscape." It was Fellini's first feature-length color film, but followed his use of color in The Temptation of Doctor Antonio episode in the portmanteau film Boccaccio '70 (1962). Juliet of the Spirits won a Golden Globe Award for Best Foreign Language Film in 1966. (source: wikipedia.org)