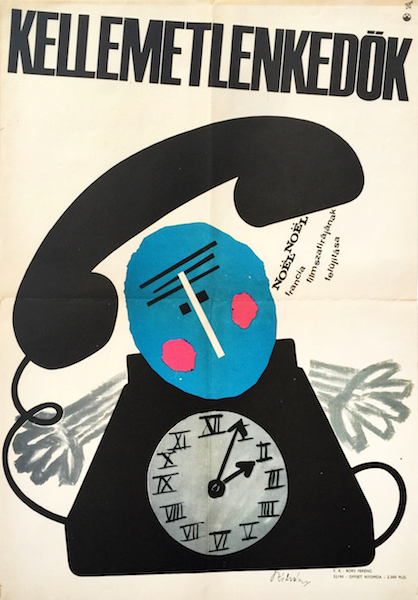 Spice of Life, The
Hungarian title:
Kellemetlenkedők
Size:
A2 1/2 Sheet (cca. 59 x 42 cm)
Condition:
Fine, light fold marks, wear and discolouration.
Material:
Paper, offset lithography.
Price: US$400
Description:
The Spice of Life is a 1960s vintage Hungarian re-release movie poster designed by Nandor Szilvasy.
The Spice of Life or Les Casse Pieds is a 1948 French film directed by Jean Dréville and starring Noël-Noël, Bernard Blier and Jean Tissier.
A series of vignettes, in which Noel-Noel appears as the moderator, lecturer, commentator and leading actor, that examine the bores and pests of everyday life much like Pete Smith and Robert Benchley had done for years in American short subjects. Among those are the Practical Joker who will do anything for a laugh; the Party Entertainer who never stops singing; the Talkative Neigbor who forgets the time; the noisy neighbors who dance the tango all night; and women drivers, people who telephone at meal time, the friend you never saw before and amatuer medical experts. Much use of trick photography, montages, puppets and animation along with some adult Gallic wit and gentle satire. The title was changed to "The Spice of Life" when it was released in the USA in 1953. (source: imdb.com)