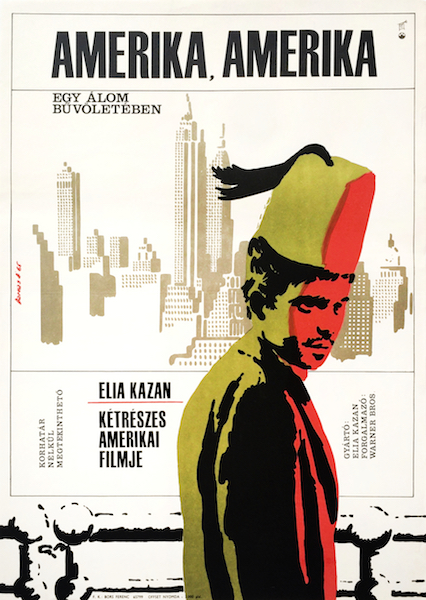 America America
Hungarian title:
Amerika amerika filmplakát
Size:
A2 1/2 Sheet (cca. 59 x 42 cm)
Condition:
Fine, light fold marks and wear.
Material:
Paper, offset lithography.
Price: US$400
Description:
America America is a 1965 vintage Hungarian movie poster designed by Arpad Darvas.
America America (British title The Anatolian Smile—a reference to an ongoing acknowledgment of the character Stavros' captivating smile) is a 1963 American dramatic film directed, produced and written by Elia Kazan, adapted from his own book, published in 1962. The dust jacket of the novel has no comma in the title, nor does the title in the film itself. Many listings of the film include a comma.
Inspired by the life of Kazan's uncle, Avraam Elia Kazantzoglou, the director uses little-known cast members, with the entire storyline revolving around the central performance of Greek actor Stathis Giallelis (born 1941), twenty-two years old at the time of production, who is in virtually every scene of the nearly three-hour movie. (source: wikipedia.org)