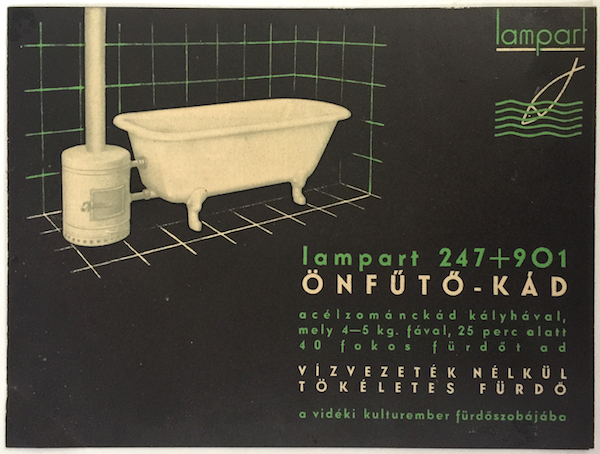 Lampart 247 + 901 self heating bathtub
Hungarian title:
Lampart 247 + 901 önfűtőkád
Size:
A5 1/16 Sheet (cca. 15 x 21 cm)
Condition:
Very good, some wear, separation along one of the fold lines, impurities on the backside.
Material:
Paper, stone lithography.
Price: US$400
Description:
Lampart 247+901 self-heating bath tub is an original 1934 vintage Hungarian Modernist advertising brochure designed by Istvan Irsai also known as Pesach Ir-Shay.
Budapest, Revay-Kunossy Printing House.
Three times folded fanfold, 15,5 x 59 cm when opened. In Hungarian. Appendix of the Hungarian Applied Arts journal. Beautiful modernist, constructivist design by Istvan Irsai (also known as Pesach Ir-shay). The tub had to be heated with wood, it was possible to make a warm bath in a half hour. It was possible to use it without electricity and tap water.
Irsai was an important poster designer and architect in Hungary and in Israel. Irsai's original style makes him one of the greatest masters of modernist-constructivist poster art. He was born to a not religious Jewish family. István Irsai finished high school at a conservatory as a violin player. Between 1914 and 1916 he was serving as an officer in the First World War, he got seriously injured, which blocked his career as violinist. In 1916 Irsai returned home as a veteran Liutenant, and he began to study architecture at the Technical University of Budapest, besides he finished the Music Academy as music teacher.
Beginning his career as an architect and furniture designer, he also worked in the field of graphic design. In the early 1920's he was working at the Globus Printing House, where he learned everything about printing techniques, included large scale lithography (which was very useful for his later work). In 1925 Irsai emigrated to Palestine, where he became involved with graphic works. Hailed as a leading graphic artist in Israel, he developed the first modern Hebrew font, the "Haim." He also designed Bauhaus styled houses in Tel Aviv, but sadly non of them exists today.
In 1930 Irsai returned to Hungary and established an impressive career as a poster and graphic artist. He immediately had a huge impact, designing numerous outstanding posters in the early 1930's. After most artists have abandoned the modernist style by the the second half of the decade, Irsai continued to work in this style and he was highly parised by his contemporaries, including Bortnyik. He designed several clear constructive poster designs for commercial products.