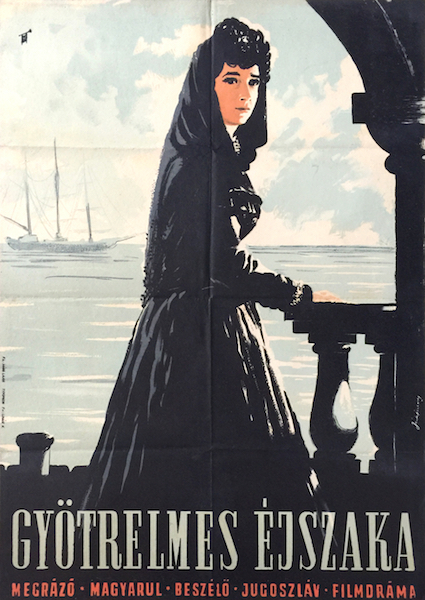 Perfidy
Hungarian title:
Gyötrelmes éjszaka
Size:
B2 (cca. 50 x 70 cm)
Condition:
Fine, light fold marks and wear.
Material:
Paper, offset lithography.
Price: US$400
Description:
Perfidy is a 1955 vintage Hungarian movie poster designed by Tibor Jakfalvy advertising Nevjera, a 1953 Yugoslavian film.
Perfidy Directed by Vladimir Pogačić Written by Momčilo Ilić Ivo Vojnović Starring Marija Crnobori Cinematography Jovan Jovanovic Nikola Majdak Edited by Milada Rajsic Release date 3 March 1953 Running time 80 minutes Country Yugoslavia Language Serbo-Croatian Perfidy (Serbo-Croatian: Nevjera) is a 1953 Yugoslavian drama film directed by Vladimir Pogačić. It was entered into the 1953 Cannes Film Festival. (source: wikipedia.org)
A story about a young man tempted to kill his rival for a girl, only to find out that he may be his illegitimate son. The story is set in XIX century Dubrovnik.
Director: Vladimir Pogacic
Writers: Momcilo Ilic, Ivo Vojnovic (novel)
Stars: Marija Crnobori, Milivoje Zivanovic, Viktor Starcic
(source: imdb.com)