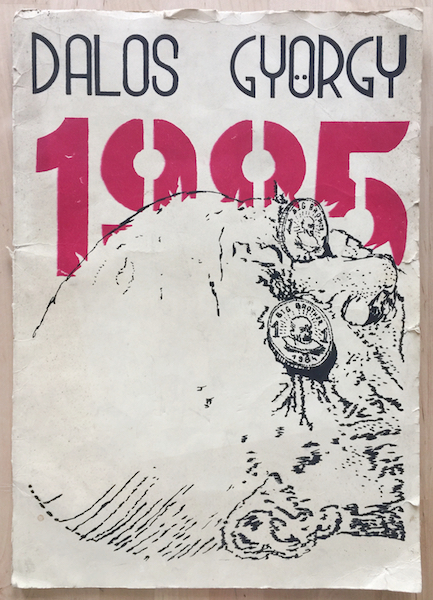 Gyorgy Dalos: 1985 samizdat
Hungarian title:
Dalos György: 1985 - AB Független Kiadó
Size:
A3 (cca. 42 x 30 cm)
Condition:
Fine, some wear, tears and stains.
Price: US$1200
Description:
Gyorgy Dalos: 1985 is a vintage Hungarian samizdat book designed by Laszlo Rajk.
Budapest: AB Független Kiadó. First Hungarian edition. In publisher's illustrated wrappers. Printed in red and black. 133 pages on 35 leaves 6 plates.
The book is a sequel of Orwell's 1984 written by György Dalos. It was first published in 1984 in English with the title: 1985. A Historical Report (Hong Kong 2036) from the Hungarian of ***" The inner covers are illustrated as well as the text and four full pages. The cover design and the illustrations are by László Rajk who designed numerous covers for Samizdat publications as an emblematic figure of the movement. This is the first Hungarian edition of 1985, in A3 format, printed in red and black. Samizdat refers to forbidden literature printed illegally without professional equpiment.