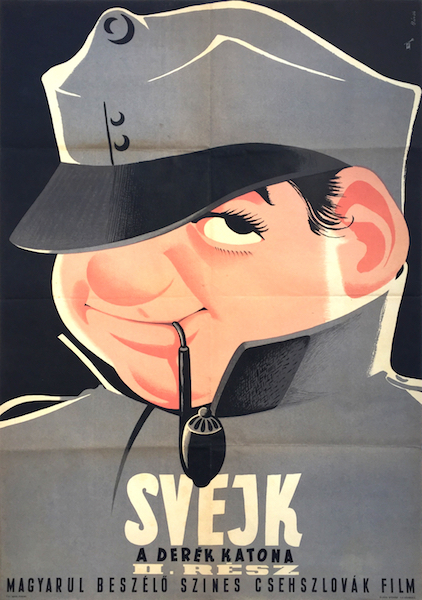 Good Soldier Schweik - Part II
Hungarian title:
Svejk a derék katona - II. rész
Size:
A1 1 Sheet (cca. 59 x 84 cm)
Condition:
Fine, light fold marks and wear, small tears.
Material:
Paper, offset lithography.
Price: US$2000
Description:
Good Soldier Schweik - Part II is a 1958 vintage Hungarian movie poster designed by Laszlo Banki.
The Good Soldier Švejk (pronounced [ˈʃvɛjk], also spelled Schweik, Shveyk or Schwejk) is the abbreviated title of an unfinished satirical dark comedy novel by Jaroslav Hašek. The original Czech title of the work is Osudy dobrého vojáka Švejka za světové války, literally The Fateful Adventures of the Good Soldier Švejk During the World War. Švejk has become a byword in the Czech Republic. The book is also the most translated novel of Czech literature: it has been translated into over 50 languages.
The Good Soldier Schweik (1956) is the most famous film adaptation. Czech film director Karel Steklý depicts the adventures of Švejk in two color films, starring Rudolf Hrušínský as the title character. It was nominated for the 1957 Crystal Globe Awards. (source: wikipedia.org)