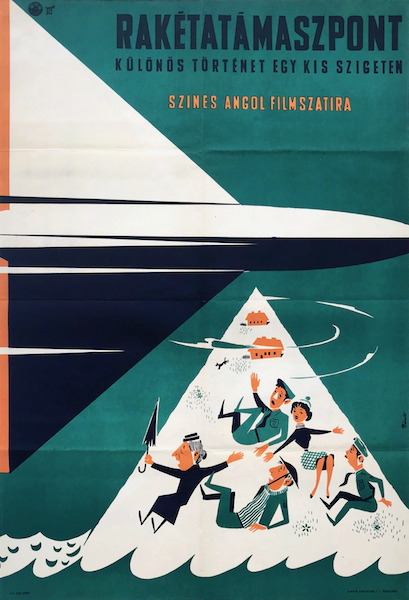 Rockets Galore
Hungarian title:
Rakétatámaszpont
Size:
A1 1 Sheet (cca. 59 x 84 cm)
Condition:
Fine, light fold marks and wear.
Material:
Paper, offset lithography.
Price: US$480
Description:
Rockets Galore (also known as Mad Little Island) is a 1959 vintage Hungarian movie poster designed by Laszlo Banki.
Rockets Galore! is a 1957 British comedy film sequel to Whisky Galore! It was much less successful than its predecessor.
It was directed by Michael Relph and based on the novel by Compton Mackenzie. It stars Jeannie Carson, Donald Sinden and Roland Culver, while Gordon Jackson, Jean Cadell and Catherine Lacey reprise their roles from the previous film. Ronnie Corbett appears as 'Drooby', with cameo appearances by Richard Dimbleby, Michael Foot and Robert Boothby.
Although not a true sequel to Whisky Galore!, many of that film's locations on the island of Barra were utilised again and many of the characters returned, but often played by different performers. The film was released in the U.S. as Mad Little Island.
In the Cold War era of post-Second World War Britain, the government decides to establish a guided missile base on the Hebridean isle of Todday. The inhabitants are not happy with this disruption of their way of life, and hamper construction as much as they can. An RAF officer, sent to negotiate with the people, falls in love with a local girl and realises what the base would mean to the islanders.
When a missile is finally launched, the guidance system fails and the missile returns to the land, rather than out at sea. As it is technically on privately owned land, the islanders claim it and celebrate their 'victory' by dancing around the site. The RAF tries unsuccessfully to negotiate, but eventually abandons the base.
But some islanders wished the base to remain, with the attendant economic benefits. Inspired and led by Father James, they 'discover' a rare seagull that only nests on Todday, in the hope that tourists will come. (source: wikipedia.org)