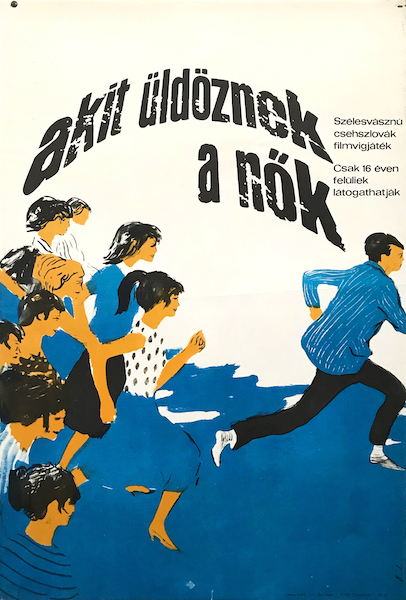 Never Strike a Woman... Even With a Flower
Hungarian title:
Akit üldöznek a nők
Size:
A2 1/2 Sheet (cca. 59 x 42 cm)
Condition:
Fine, light fold marks and wear.
Material:
Paper, offset lithography.
Price: US$240
Description:
Never Strike a Woman... Even With a Flower is a 1967 vintage Hungarian movie poster designed by Sandor Ernyei.
The Hungarian title literally translates to: He Who is Chased by Women.
Zenu ani kvetinou neuhodís is a 1967 Czechoslovakian film.
Shortish forty-year old Ludvík Podzimek, lute and flute player in a Prague orchestra, is far from being an attractive man. He is nevertheless generally considered a great 'Don Juan'. Women take up with him out of a certain motherly compassion and Ludvík's tender heart does not allow him to split with any of them. His lovers thus accumulate and cause him numerous troubles.
Director: Zdenek Podskalský
Writers: Jaroslav Dietl, Zdenek Podskalský
Stars: Vlastimil Brodský, Jana Brejchová, Jirina Bohdalová