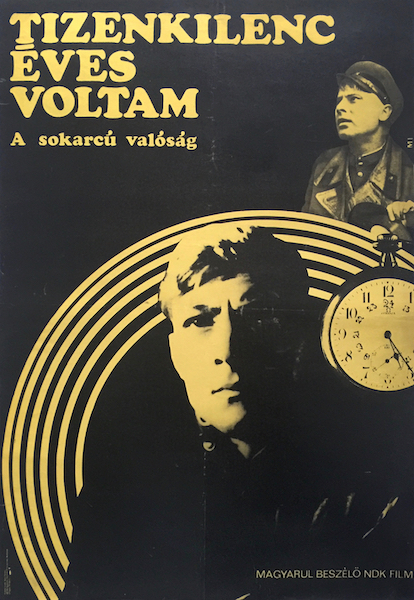 I Was Nineteen
Hungarian title:
Tizenkilenc éves voltam
Size:
A1 1 Sheet (cca. 84 x 59 cm)
Condition:
Fine, light fold marks and wear.
Material:
Paper, intaglio.
Price: US$240
Description:
I Was Nineteen is a 1968 vintage Hungarian movie poster designed by Ilona Muller.
Ich war neunzehn is a 1968 East German film.
April 1945: Gregor Hecker, 19 years of age, reaches the outskirts of Berlin as part of the Red Army's scouting team. Having fled Germany with his family when he was eight, he is confronted with the dilemma of having to fight men from the very country he was born in. Through dealing with challenging situations (e.g. he is appointed commander of Bernau, talks to many disillusioned Germans, and is once and again attacked by scattered groups of German soldiers), he grows more confident that not all hope is lost for post-war Germany. Based on the diary entries of director Konrad Wolf, the episodic movie authentically portrays the protagonist's struggle to come to terms with his own past and identity.
Director: Konrad Wolf
Writers: Wolfgang Kohlhaase (scenario), Gerhard Wolf (dramatisation)
Stars: Jaecki Schwarz, Vasiliy Livanov, Aleksey Eybozhenko
(source: imdb.com)