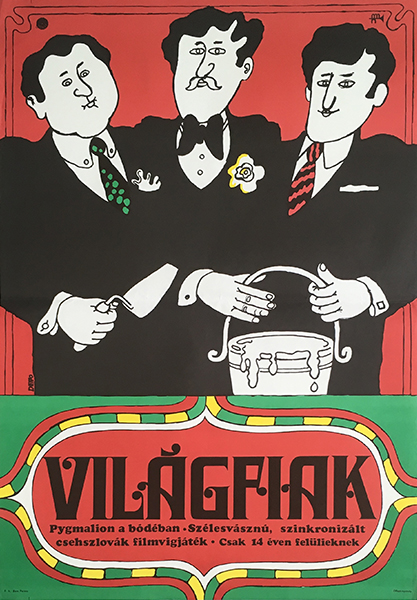 Men About Town
Hungarian title:
Világfiak
Size:
A1 1 Sheet (cca. 84 x 59 cm)
Condition:
Fine, light fold marks and wear.
Material:
Paper, offset lithography.
Price: US$320
Description:
Men About Town is a 1970 vintage Hungarian movie poster designed by Erno Dede.
Svetáci is a 1969 Czechoslovakian film.
Skopec, Prouza, Petrtýl are three country plasterers who are working on the renovation of houses in Prague. They are tempted by the Prague night life, but their first visit to the luxury Diplomat Grill doesn't go too well and in the end they have to escape. But they refuse to give up. They have superior suits made for themselves and pay for training in social graces from the former dance teacher Dvorský. When Dvorský decides that they are already sufficiently well educated, the men set off again for the Diplomat Grill. Here they meet three young girls. They have no suspicion that these are girls of rather easy virtue, who are looking for rich men in the Diplomat Grill with a view to fleecing them.
Director: Zdenek Podskalský
Writer: Vratislav Blazek (screenplay)
Stars: Jirí Sovák, Vlastimil Brodský, Jan Libícek
(source: imdb.com)