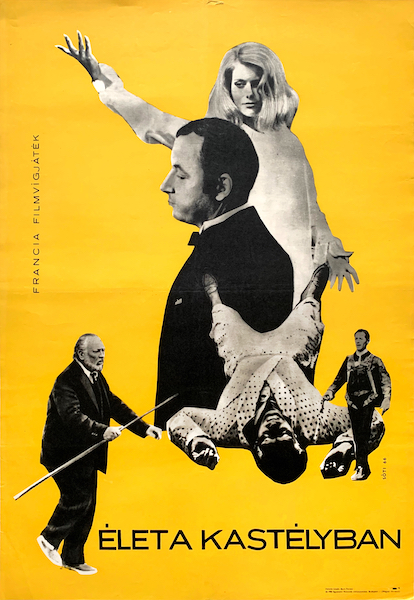 Matter of Resistance, A
Hungarian title:
Élet a kastélyban
Size:
A1 1 Sheet (cca. 84 x 59 cm)
Condition:
Fine, light fold marks and wear, small tears.
Material:
Paper, intaglio.
Price: US$400
Description:
A Matter of Resistance is a 1966 vintage Hungarian movie poster designed by Klara Soti for a film released in Hungary in 1967.
La vie de château is a 1966 French film.
In the countryside near Normandy's beaches lives Marie, unhappily. It's 1944, she's married to Jérôme, a somewhat fussy milquetoast, diffident to the war around him and unwilling to move his wife to Paris, where she longs to live, shop, and party. A German outfit is bivouacked at Jérôme and Marie's crumbling château because its commanding officer is pursuing Marie. She's also eyed by a French spy working with the Allies as they plan D-Day. He woos her (posing to the Germans as her brother) and, in his passion, forgets his mission. Heroics come from an unexpected direction, and Marie makes her choice.
Director: Jean-Paul Rappeneau
Writers: Jean-Paul Rappeneau (scenario), Alain Cavalier (collaboration)
Stars: Catherine Deneuve, Pierre Brasseur, Philippe Noiret
(source: imdb.com)