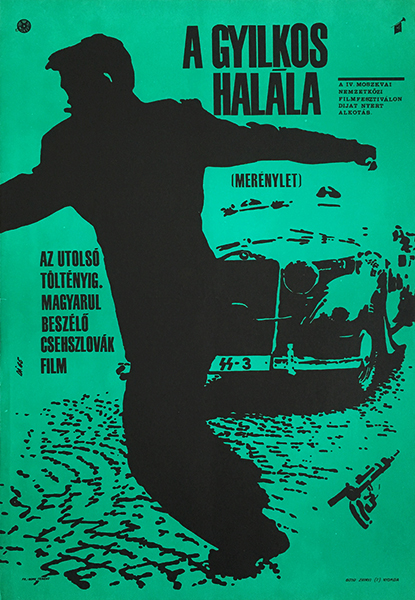 Assassination, The
Hungarian title:
A gyilkos halála
Size:
A2 1/2 Sheet (cca. 59 x 42 cm)
Condition:
Fine, light fold marks and wear, small tears.
Material:
Paper, offset lithography.
Price: US$240
Description:
The Assassination is a 1965 vintage Hungarian movie poster designed by Arpad Darvas.
Atentát is a 1965 Czechoslovakian film.
It is autumn 1941. Acting Reichsprotector Reinhard Heydrich has taken up his position in the occupied Czech lands and Moravia. His old rival from the Nazi supremoes, Admiral Canaris, objects to Heydrich's cruelty, which raises great hatred everywhere he goes. Meanwhile, selected Czechoslovak soldiers undergo paratrooper training in Great Britain; the soldiers are then to be dropped into Czech territory to support the local resistance. Several groups of well-trained men will soon see their homeland.
Director: Jirí Sequens (as Sequens)
Writers: Miloslav Fábera (as Fábera), Kamil Pixa (as Pixa)
Stars: Radoslav Brzobohatý, Rudolf Jelínek, Ladislav Mrkvicka
(source: imdb.com)