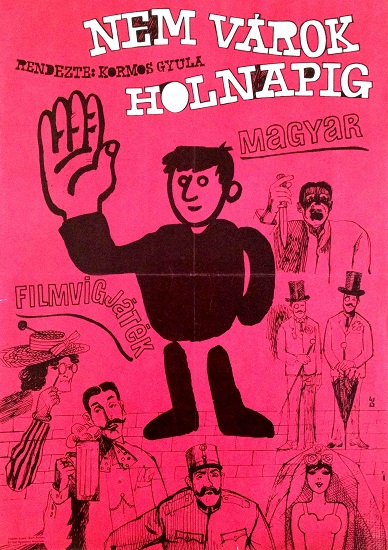 I Won't Wait Until Tomorrow
Hungarian title:
Nem várok holnapig
Size:
A2 1/2 Sheet (cca. 59 x 42 cm)
Condition:
Fine, light fold marks and wear.
Material:
Paper, intaglio.
Price: US$240
Description:
Poster of a Hungarian comedy directed by Gyula Kormos starring Manyi Kiss, one of the most popular actresses of the time.
The designer of the poster, Ernő Dede mostly designed movie posters and illustrations. On this movie poster, he appleid strong contrasts: in front of a pink background there are black figures. The most dominant character on the poster is a cartoon-like stylized figure while the other characters are more detailed, drawn in a different style but they do not get as much emphasis as the one in the middle, because the lines used on them are not as thick. The picture is a very decorative mix of different drawing styles.