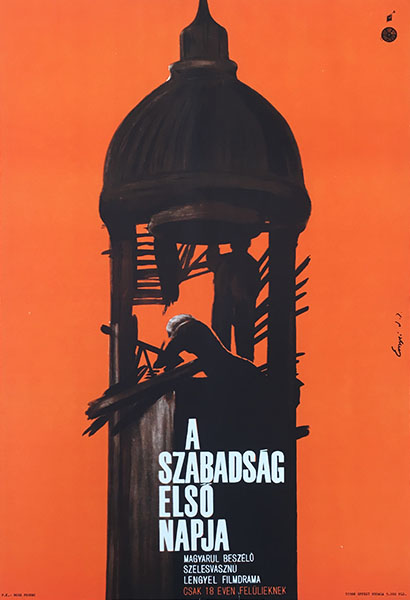 First Day Of Freedom, The
Hungarian title:
A szabadság első napja
Size:
A2 1/2 Sheet (cca. 59 x 42 cm)
Condition:
Fine, light fold marks and wear.
Material:
Paper, offset lithography.
Price: US$240
Description:
Fine, painted composition by Sandor Ernyei, with strong color contrasts. The poster was made for a Polish movie.
This is the final film shot in his native country by Polish director Aleksander Ford, this work was entered, in hopes of winning a prize, at the 1965 Cannes Festival, although its chances had for the most part been considered as feeble; and such was the result, not only because of Festival competition, but additionally due to its meandrous narrative and intermittently ragged post-production efforts. The film is taken from a play in an existential vein by Leon Kruczkowski, Polish man of letters/politician, and, as in the stage piece, focuses upon the affiliation between those who conquer, and their defeated foes. (source: imdb.com)