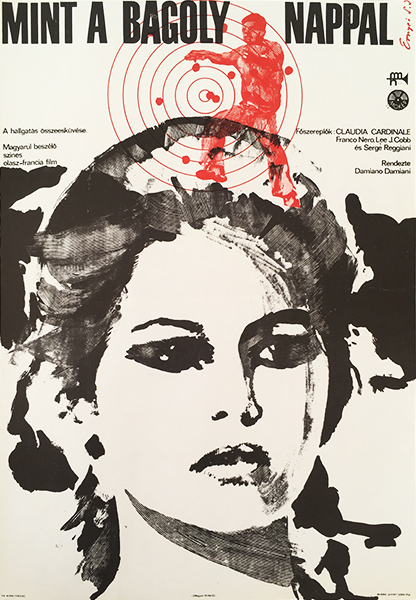 Mafia
Hungarian title:
Mint a bagoly nappal
Size:
A2 1/2 Sheet (cca. 59 x 42 cm)
Condition:
Fine, light fold marks and wear.
Material:
Paper, offset lithography.
Price: US$240
Description:
Beautiful poster by Sándor Ernyei for a famous Italian movie (original title: Il giorno della civetta). The movie features Claudia Cardinale and Franco Nero. Ernyei used a nice portrait of Cardinale on the design, but he created an autonomous composition that combines drawing and photo. The elegant details and the delicate harmony make this poster an impressive piece.
Based on the Leonardo Sciascia novel of the same title, this story deals with the difficulties facing a northern police officer investigating a Mafia murder in a small Sicilian town in 1961. Salvatore Colasbena, a construction supplier, was murdered # and buried under a blanket of tar # because he refused to join the Mafia-controlled roadbuilding group. His widow, Rosa, is investigated by the police, but honest Captain Bellodi comes to suspect Mafia boss Don Mariano Arena when he can find no witnesses, no evidence, only hostile obstruction by corrupt government influences. Captain Bellodi has no idea that his pursuit of the truth will stir up a hornet's nest. Powerful figures have a vested interest in ensuring that the very existence of the Mafia can be denied. The movie dramatizes the hold that the Mafia has on Sicilian life: the police, the judiciary, politics, and the Catholic Church. Everyone in the village is afraid to talk to Bellodi for fear they will be silenced forever. (source: imdb.com)