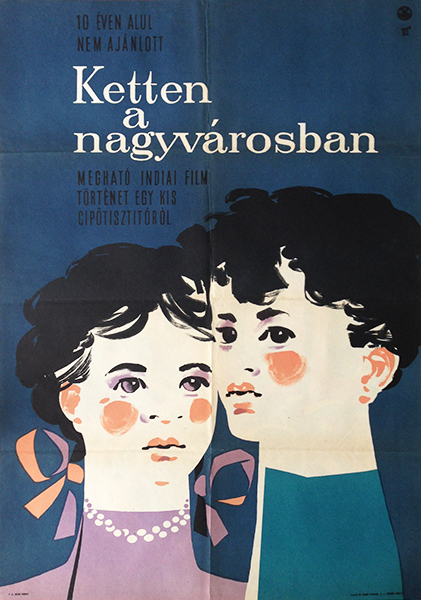 Boot Polish
Hungarian title:
Ketten a nagyvárosban
Size:
A1 1 Sheet (cca. 55 x 84 cm)
Condition:
Fine, light fold marks and wear.
Material:
Paper, offset lithography.
Price: $800
Description:
Indian drama directed by Prakash Arora. Toddlers Belu and Bhola share an uncertain future when their mom dies in the plague, and their dad is imprisoned. They are then left in the uncaring care of Kamla, their aunt, who moonlights as a prostitute. She is cruel,abusive and forces them to take to a life of begging on the local trains, on beaches and crowded areas in Bombay. This is how the toddlers grow up, they want to lead a respectable life, and with the help of bootlegger John, they get a shoe-shine kit and start shining shoes on busy sidewalks and railway platforms. Their circumstances face more uncertainty when Kamla finds out about their new-found profession, beats them up and throws them out of the house. They temporarily seek shelter with John, but when he is arrested, they have to fend for themselves. Things become bad to worse when Bombay enters the monsoon season, when people do not get their shoes shined; then the duo are separated - with Belu ending up with a rich family, and when she asks about Bhola, she is told that he is dead. The question remains is Bhola really dead, if not, what has been his fate? (source: imdb.com)
The film won an award and was nominated on the Cannes film festival in 1955, and won 3 more awards on the Filmfare Festival in 1955.