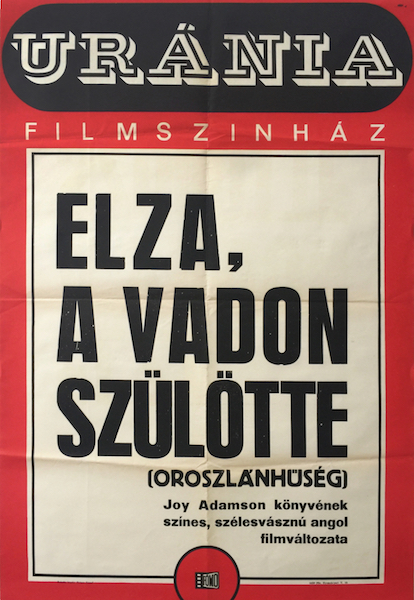 Born Free
Hungarian title:
Elza, a vadon szülötte
Size:
A1 1 Sheet (cca. 55 x 84 cm)
Condition:
Fine, fold marks, light wear.
Material:
Paper, offset lithography.
Price: $200
Description:
Born Free is a 1969 original vintage Hungarian typographic movie poster.
Born Free is a 1966 British drama film starring Virginia McKenna and Bill Travers as Joy and George Adamson, a real-life couple who raised Elsa the Lioness, an orphaned lion cub, to adulthood, and released her into the wilderness of Kenya. The film was produced by Open Road Films Ltd. and Columbia Pictures. The screenplay, written by blacklisted Hollywood writer Lester Cole (under the pseudonym "Gerald L.C. Copley"), was based upon Joy Adamson's 1960 non-fiction book Born Free. The film was directed by James Hill and produced by Sam Jaffe and Paul Radin. Born Free, and its musical score by John Barry, won numerous awards (source: wikipedia.com).