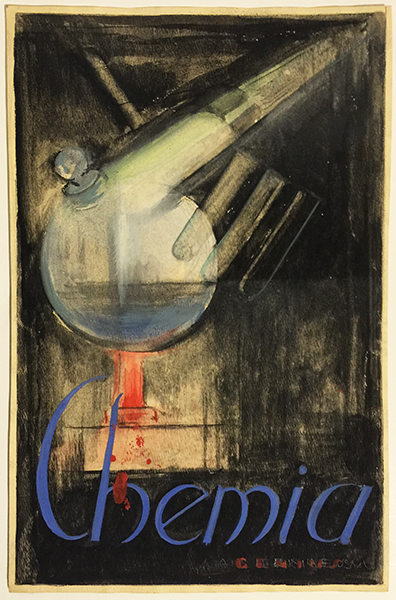 Chemistry
Hungarian title:
Chemia
Size:
Tram poster (cca. 17 x 24 cm)
Material:
Paint on cardboard.
Price: US$2400
Description:
This original vintage painted book cover artwork was created for a chemistry book during the 1920s – 1930s. The creator artist is not known, but it is visible that this piece represents a rare tone in early Hungarian poster art.
The composition is artistically blurred, operating with several typical elements of a chemistry class. A Bunsen burner is depicted to be on, a retort is being held above its red light, and several test-tubes appear to the right of the retort. The motifs are captured as light patches with gentle silhouettes in front of a deep black background painted with fast, intense brush work. The typography is placed at the bottom of the composition: the title appears in blue, thin, slanting, elegant letters. The usage of black and white, red and blue colours creates an elementally concentrated character, while the energetic moves used and the airy spots visible in the colouring contribute to a passionate atmosphere. There are even some drops of the bright red paint on the lower part of the composition – even if it was not intended, this gesture gives an extra soulfulness to the design. (Moreover, it points forward in time, to the direction of the later Abstract Expressionism in the middle of the century.)
All these characteristics reveal an expressionist style with a lyrical character, which was quite rare in Hungarian art of the period. Internationally Expressionism was one of the earliest Avant-garde tendencies in the beginning of the 20th century which came into being in Germany. Several artistic groups were formed later to become separated branches of the style (Die Brücke, Der Blaue Reiter, etc.), and they had specific influences in art world. In Hungary, Lajos Tihanyi can be mentioned in painting art, who was the master of expressionist portraits in the 1910s. In Hungarian poster art, expressionist tendencies were most likely connected to Hungarian political posters around 1919 created by Avant-garde artists. Those works have a sharp, agitative, revolutionary character, which is definitely different from this deep, contemplative nature of the graphic design visible here.