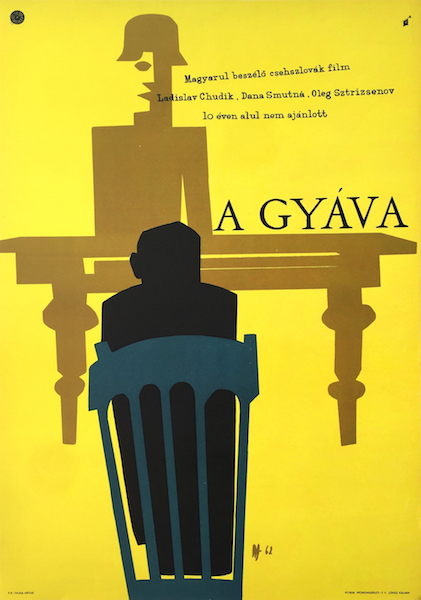 Coward, The
Hungarian title:
A gyáva
Size:
A1 1 Sheet (cca. 59 x 84 cm)
Condition:
Fine, light wear.
Material:
Paper, offset lithography.
Price: US$1000
Description:
The Coward is a 1962 vintage Hungarian movie poster designed by Arpad Darvas.
In this moral study of heroism set in a remote Slovak village in the closing days of World War II, a schoolteacher and his young wife find a wounded Russian parachutist in their front yard just as the Germans are coming in to occupy their village. As his wife readily becomes involved with anti-Nazi partisans, the schoolteacher collaborates with the Germans, but, at the end of his humiliation, finds the courage to save his honor and the innocent victims of the Nazis.
Director: Jirí Weiss
Writers: Ivan Bukovcan, Ota Ornest
Stars: Daniela Smutná, Ladislav Chudík, Oleg Strizhenov
(source: imdb.com)