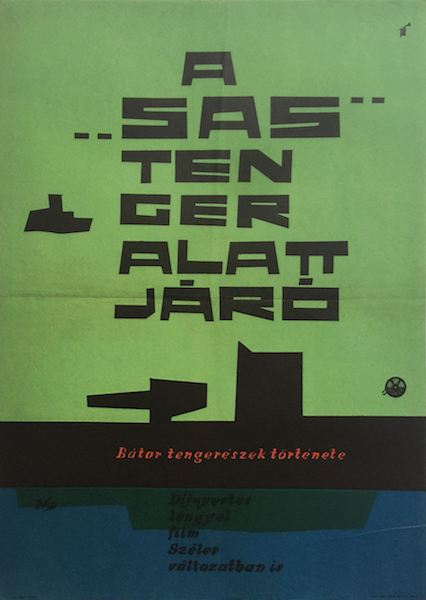 Eagle, The
Hungarian title:
A Sas tengeralattjáró
Size:
A2 1/2 Sheet (cca. 42 x 59 cm)
Condition:
Fine, light fold marks and wear.
Material:
Paper, offset lithography.
Price: US$400
Description:
The Eagle is a 1960 vintage Hungarian movie poster designed by Arpad Darvas in 1959.
The Eagle (Polish: Orzeł) is a 1959 Polish war film directed by Leonard Buczkowski. It is based on the true story of the Polish World War II submarine ORP Orzeł. Since the real Orzeł was sunk in the war, to assure authenticity her role was played by her sister ship, the ORP Sęp. The film was entered into the 1st Moscow International Film Festival.
The story is inspired by the Tallinn-episode of the Polish submarine Orzel, which entered, in September 1939, the harbour of neutral Estonia and left its commanding officer with symptoms of illness. The Estonian authorities tried to intern the submarine, under pressure from the Nazi-Germany, but it escaped. (source: wikipedia.org)