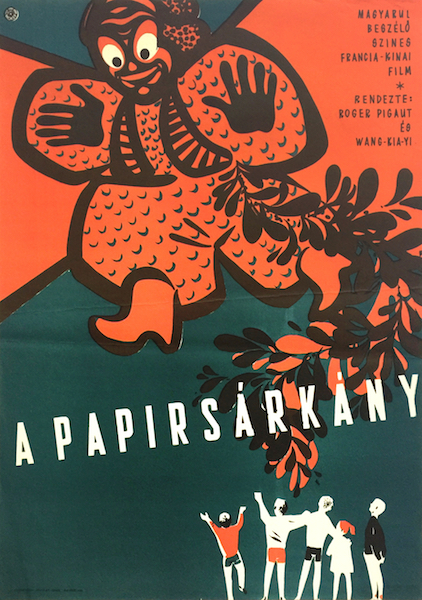 Magic of the Kite, The
Hungarian title:
A papírsárkány
Size:
A2 1/2 Sheet (cca. 42 x 59 cm)
Condition:
Fine, light fold marks and wear.
Price: $400
Description:
The Magic of the Kite is a 1959 vintage Hungarian movie poster designed by Olga Tovisvary.
Little Pierrot and his friends from Montmartre have discovered a colourful kite at the top of tree. They manage to take it down and find out that one of its wings hides a letter written in Chinese. One of their neighbours, a Chinese antique dealer, translates it for them. A young boy of Beijing named Song Siao Ting, has sent a friendly message to the children who will find this kite. Bébert, the nasty boy of the group, snatches the piece of kite where Song's address is written. Pierrot is sad and falls asleep. He sees Sun Wukong, the king of monkeys and musicians, who will help him to find Song. In Beijing, the children have many adventures... First co-production between China and France, this film for children is full of tenderness and friendship. Millions of children saw it in China where he was released on the Children Day celebration, as well as in France.
Director: Roger Pigaut
Writers: Roger Pigaut (original idea), Roger Pigaut (scenario & adaptation)
Stars: Patrick de Bardine, Sylviane Rozenberg, Jacques Faburel
(source: imdb.com)