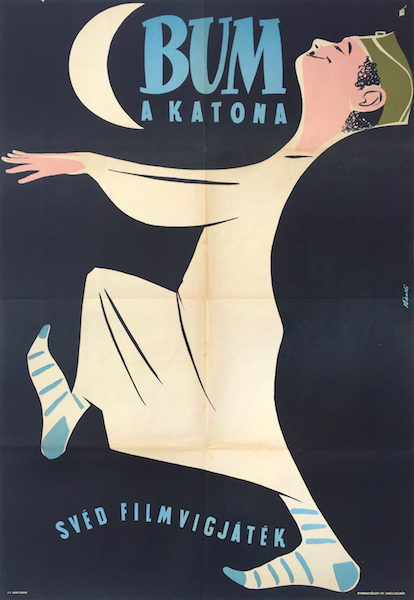 Private Bom
Hungarian title:
Bum, a katona
Size:
A1 1 Sheet (cca. 59 x 84 cm)
Condition:
Fine, light fold marks and wear.
Material:
Paper, offset lithography.
Price: US$800
Description:
Private Bom is a 1958 vintage Hungarian movie poster designed by Laszlo Banki.
The station-master Fabian Bom is a very meticulous person, and he makes sure that the train leaves exactly - on the second. To him, nothing could be more important than duty, efficiency and punctuality, in fact, his sense of duty is clearly perverted. His beloved Plum-Plum, the major's daughter, is infatuated with army officers. To regain her attention, he joins the army. Bom becomes a soldier who loves the military training, long marches as well as hard labour as punishment. He meets Agnes, who falls madly in love with him.
Director: Lars-Eric Kjellgren
Writers: Paul Baudisch (as Per Schytte), Nils Poppe
Stars: Nils Poppe, Gunnar Björnstrand, Julia Cæsar
(source: imdb.com)