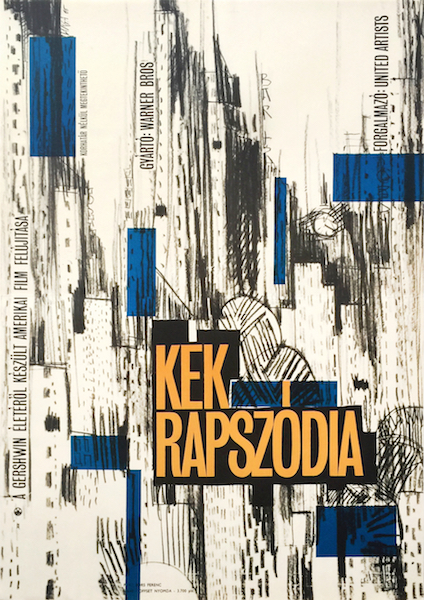 Rhapsody in Blue
Hungarian title:
Kék rapszódia
Size:
A2 1/2 Sheet (cca. 42 x 59 cm)
Condition:
Fine, light fold marks and wear.
Material:
Paper, offset lithography.
Price: US$400
Description:
Rhapsody in Blue is a 1965 vintage Hungarian re-release movie poster designed by Gyozo Varga.
Rhapsody in Blue is a 1945 fictionalized screen biography of the American composer and musician George Gershwin (September 26, 1898 – July 11, 1937) released by Warner Brothers.
Starring Robert Alda as Gershwin, the film features a few of Gershwin's acquaintances (including Paul Whiteman, Al Jolson, and Oscar Levant) playing themselves. Alexis Smith and Joan Leslie play fictional women in Gershwin's life, Morris Carnovsky and Rosemary De Camp play Gershwin's parents, and Herbert Rudley portrays Ira Gershwin. Oscar Levant also recorded most of the piano playing in the movie, and also dubbed Alda's piano playing. Both the Rhapsody in Blue and An American in Paris are performed nearly completely, the "Rhapsody..." debut of 1924 conducted, as it was originally, by Whiteman himself.
The film introduces two fictional romances into the story, one with a woman named Julie Adams (played by Joan Leslie) and the other a near-romance with a rich society woman played by Alexis Smith.
The film notably features performances of Gershwin music by two talented and accomplished African-American musician/singers, Anne Brown (1916-2009) and Hazel Scott (1920-1981). Both were child prodigies whose training included study at the Juilliard School.
Anne Brown, a soprano, created the role of "Bess" in the original production of George Gershwin's opera Porgy and Bess in 1935. In the film, Brown sings the aria Summertime from Porgy and Bess. But in the film, the song is completely rearranged, with the first verse sung by chorus only. William Gillespie, an African-American bass-baritone, appeared uncredited as "Porgy" in the 'Porgy and Bess' sequence, but did not sing.
Born in Trinidad and Tobago, Hazel Scott was raised in New York City and became known as a jazz and classical pianist and singer. Like Lena Horne, Scott was one of the first African-American women to have a career in Hollywood as well as television. Scott plays herself in the film, performing in a Paris nightclub. (source: wikipedia.org)