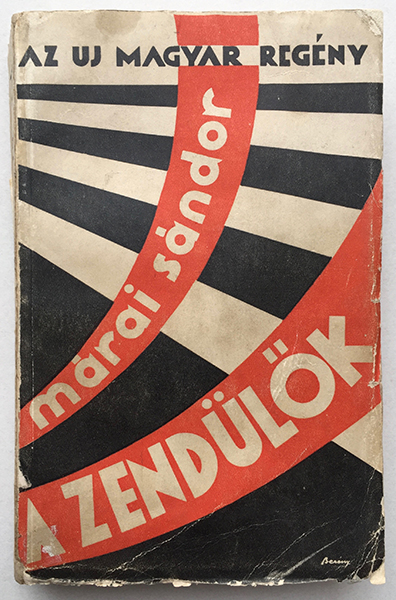 Sandor Marai: Rebels
Hungarian title:
Márai Sándor: Zendülők
Size:
Book (cca. 13 x 20 cm)
Condition:
Very good, light wear, stains.
Price: US$400
Description:
Book by Sándor Márai. Size: 12 x 19 cm. The cover was designed by Róbert Berény.
The book was first published in 1930 by Révai Publishing House. Sándor Márai, the author of the novel was a writer and journalist. He was among the greatest novelists but had been forgotten for decades due to the fact that after World War II he left Hungary. He continued writing but had forbidden to publish his books in Hungray because he despised the Communist regime. His works were only republished again the change of the system in 1989. Márai has written 46 books, most of which were published in and outside of Hungary. His works were translated to French, English, Catalan, Polish, Spanish, Urdu, etc. He posthoumusly was awarded with the Kossuth Prize.
The Kossuth Prize is a state-sponsored award in Hungary, named after the Hungarian politician and revolutionary Lajos Kossuth. The Prize was established in 1948 (on occasion of the centenary of the March 15th revolution, the day on which it is still handed over every year) by the Hungarian National Assembly, to acknowledge outstanding personal and group achievements in the fields of science, culture and the arts, as well as in the building of Socialism in general. (sourze: wikipedia.org).
The Rebels takes place in the last days of the First World War in a small city of Budapest. The war did not directly affect the village but due to the large number of men dying in the war the women are forced to live without husbands and the children without fathers. The plot centers around 4 young boys who are very confused and do not care about the morals and expectations of society. They steal, cheat and lie but eventually they get manipulated by a slick pledgee and they get in trouble.
The book was published as the part of the New Hungarian Novel series by Panthenon publishing house. The books of the series were modern bookswhich represented new waves in Hungarian literature.
Róbert Berény, the designer of the cover of the book was one of the greatest artists of modernist Hungarian design. This book cover is also a beautiful modernist work. The typography, to red and black colours, the diynamics of the geometric shapes create a perfect example of modernist graphic design. The novel and the beautiful cover design represent a great value.