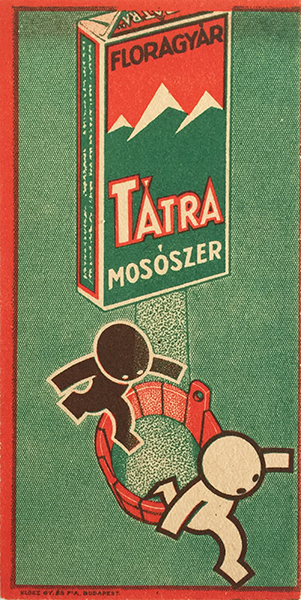 Tatra washing powder
Hungarian title:
Tátra mosószer - Floragyár
Size:
Advertising slip (cca. 6 x 13 cm)
Material:
Paper, stone lithography.
Price: US$400
Description:
Modernist advertising slip by Robert Bereny, who was one of the greatest modernist poster artists of the 20th century. He is most famous for his posters designed during the second half of the 1920's, and the To arms, to arms! propaganda poster in 1919. He designed numerous posters for companies like Modiano cigarette rolling papers, Cordatic tires, Flora washing soap and Tatra washing powder, among many others. His recurring character on his posters for tatra was a black stick figure, who sometimes pointed to a glowing white blanket (washed with Tatra), or sometimes, and in this case as well, crossing under a stream of Tatra, and becoming clean, changing colour from black into white. The brand name refers to the snowy tops of the Tatra mountains.