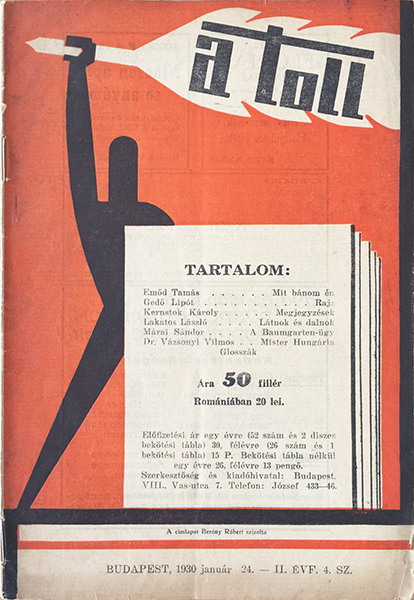 The Quill journal
Hungarian title:
A Toll újság
Size:
Book (cca. 16 x 23 cm)
Condition:
Fine, light wear, stains.
Material:
Paper, letterpress.
Price: US$400
Description:
Róbert Berény was one of the greatest masters of Hungarian poster art and he was equally important as a painter as well.
He was a member of the most significant Hungarian avant-garde painter group, the "Eight" (Nyolcak). In 1919 he designed the well-known propaganda poster (To Arms! To Arms!) for the Hungarian Soviet Republic in 1919. After the fall of the regime, like numerous other people who were found guilty for propagating the leftist movement, was forced to emingration. He spent a few years in Berlin, then in 1925 the Hungarian government declared amnesty for everyone involved with the Soviet system, thus Berény could return to his homeland. Similarly to his friend and colleague Sándor Bortnyik, he did not cease painting but it was hard to make a living as a painter. Being exceptionally talented, they both got numerous commissions as graphic designers to create advertisements what provided them possibility to earn their subsistence.
Berény applied constructivism and Bauhaus on his commercial posters. Him, and Bortnyik were the leading figures of the modernist trends in Hungarian poster art.
Berény's modernist posters are outstanding works of the age, and are known world-wide. The modernist style is also apparent on the cover of this magazine.
'A Toll' was a radical pro-reform, urban weekly journal that existed between 1929 and 1938. It was a literary magazine established by Pál Ignotus. Great authors contributed to it: Lajos Nagy, Frigyes Karinthy, Sándor Márai, Dezső Kosztolányi, Lajos Zilahy, Attila József, Zoltán Somlyó, etc.
.