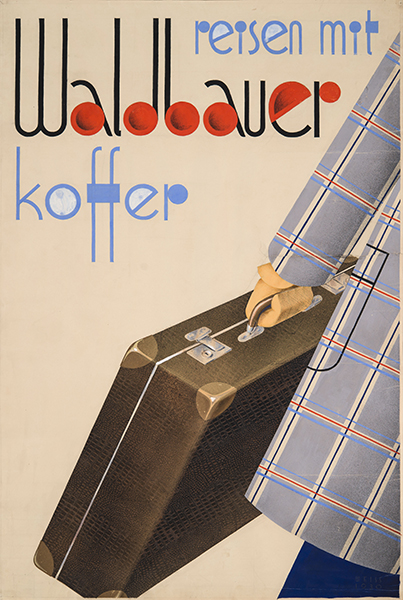 Travel with Waldbauer suitcase
Hungarian title:
Utazzon Waldbauer bőrönddel
Size:
Pre-war 1 Sheet (cca. 63 x 95 cm)
Condition:
Fine, large restored tears.
Material:
Paper, collage, paint.
Price: $30000
Description:
Reisen mit Waldbauer Koffer (Original in German text on the poster) is an original Modernist poster design by an important architect of the interwar period, Pál Vince from 1930.
Pál Vince, originally Pál Weiss, was born to a Jewish family in Budapest in 1909, and studied furniture design in the School of Applied Arts from the famous master Gyula Kaesz.
In the year of the poster's creation, he left to Germany. He started to study in Stuttgart by Adolf Schneck; later he left to Düsseldorf, where he studied architecture by Emil Fahrenkamp. He came back to Hungary in 1933, and built up a career as an architect in the 1930s.
In 1944 he successfully escaped from the forced labor camp. In 1945 he changed his name and continued to work as an architect. This unique Art Deco design was created in Stuttgart, as Pál Vince (by that time Weiss) was studying there.
The Waldbauer company was working there since the early 20th century; they produced luxury luggages. The original design of Vince is very attractive with is elegant Art Deco style. The surface is beautifully detailed; the designer successfully represented the different materials with painting, pencil drawing and sprayed paint. This is a truly unique piece of advertising design history.