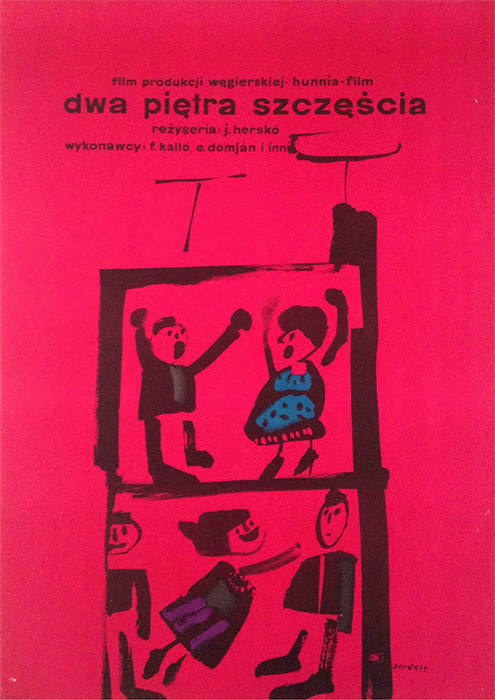 Description:
Polish poster of a Hungarian movie, called "Két emelet boldogság". The poster was created for the Polish release and it was printed in Poland. It was created by a leading artist of the Polish School of Posters, Waldemar Swierzy. (The poster is signed as Swierzy, lower right.)
Swierzy is one of the Polish School of Posters' most prolific artists, having created over 2500 posters. He employed unusual concepts with a variety of techniques, frequently mirroring Polish social history from 1950s through 1980s, with a myriad of styles: folk art from the 50s, pop art from the 60s, portraits from the 70s, and TV images from the 80s In addition, his Jazz Greats series of famous American jazz personalities became so well known that he reissued them in his later years as signed lithographs.
Beginning in the 1950s and through the 1980s, the Polish School of Posters combined the aesthetics of painting with the succinctness and simple metaphor of the poster. It developed characteristics such as painterly gesture, linear quality, and vibrant colors, as well as a sense of individual personality, humor, and fantasy. It was in this way that the Polish poster was able to make the distinction between designer and artist less apparent. Posters of the Polish School of Posters significantly influenced the international development of graphic design in poster art. Their major contribution is in their use of the power of suggestion through clever allusions. Using strong and vivid colors from folk art, they combine printed slogans, often hand-lettered, with popular symbols, to create a concise inventive metaphor. As a hybrid of words and images, these posters created a certain aesthetic tension. In addition to aesthetic aspects, these posters were able to reveal the artist's emotional involvement with the subject. They did not solely exist as an objective presentation, rather they were also the artist's interpretation and commentary on the subject and on society. (source: wikipedia.org)
Here Swierzy applied watercolor paint in order to create an expressive composition. He represents the two floors of the building (refering to the movie's title), and a passionate scene appears in each of them. The style of the lazy painting is close to the drawing style of children. These "primitive" forms have a certain expressive power. The background color is very intensive, which is contrasted with the black lines of the paining.