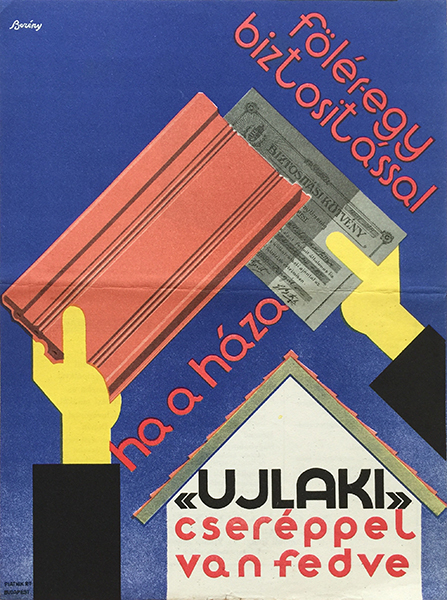 Ujlaki tiles
Hungarian title:
Fölér egy biztosítással, ha a háza Ujlaki cseréppel van fedve
Size:
B4 (cca. 25 x 35 cm)
Condition:
Fine, horizontal fold mark, light wear along bottom border.
Material:
Paper, stone lithography.
Price: US$1600
Description:
"Ujlaki Roof Tiles - It's like an insurance that your roof is covered with..."
Róbert Berény was one of the greatest masters of Hungarian poster art, equally important as a painter. Together with Lajos Kassák, Sándor Bortnyik and István Irsai, they were the leading artists of the modernist poster design in Hungary which was one of the most important tendencies in the 1930s.
The design of Berény for the Ujlaki slate tile is one of his iconic works. The use of simple, geometric forms and basic colours reveal a constructivist character of the portrayal what reflects the aesthetic attitude of Modernism. The whole composition contributes to a mature, concentrated design.
This version functioned both as a small poster and a leaflet, as there is product information printed on the other side. Scarce.
leaflet/small poster, exact size: 29,9 x 23,2 cm