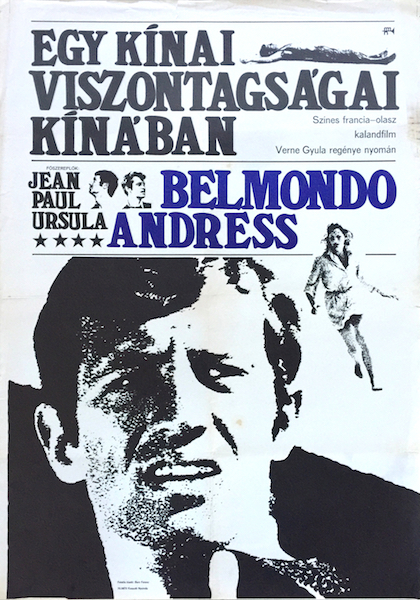 Up to His Ears
Hungarian title:
Egy kínai viszontagságai Kínában
Size:
A1 1 Sheet (cca. 55 x 84 cm)
Condition:
Fine, light fold marks and wear, some creasing and dirt.
Material:
Paper, offset lithography.
Price: $600
Description:
Up to His Ears (alternate title: Chinese Adventures in China) is a 1970 vintage Hungarian movie poster.
Chinese Adventures in China (French: Les Tribulations d'un Chinois en Chine) is a 1965 French adventure comedy film starring Jean Paul Belmondo and Ursula Andress. It was directed by Philippe de Broca and written by Daniel Boulanger, loosely based on the 1879 novel Tribulations of a Chinaman in China by Jules Verne.
The film notably includes not just footage of China, but also in a previous section several minutes of footage of the Taj Mahal and Agra area in 1965 (notice how much whiter the Taj Mahal appears than in recent decades), and about 15 minutes of footage of the central area of Kathmandu, Nepal, the nearby Swayambunath hillside temple, and more rural mountain areas of Nepal with the impressive Himalaya mountains as backdrop. (source: wikipedia.org)