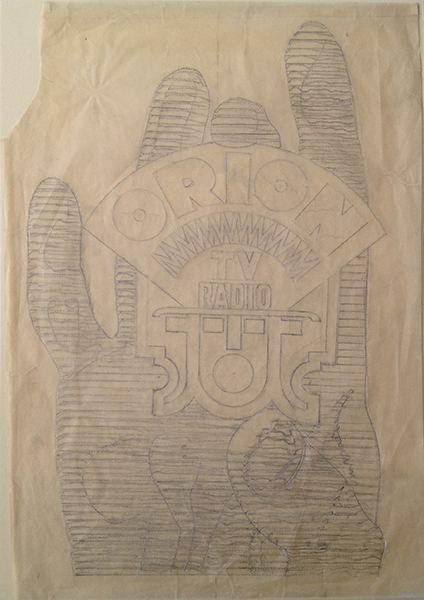 Orion TV Radio sketch
Hungarian title:
Orion TV Rádió vázlat
Size:
B3 (cca. 50 x 35 cm)
Condition:
Fine, restored, light wear, small paper loss.
Price: US$320
Description:
Poster Maquette, pencil. Size: cca. 48 x 31 cm
After Jozsef Bottlik. Monumental, hand drawn poster maquette on paus paper. Most probably the drawing was intended to transcribe the composition, that's why it was drawn on the transparent material.
The drawing was created in the 1950s, the most successful period of the Orion Factory. The Orion logo consists of three heads and it was designed by József Bottlik. The three heads represent the three directions of the sound spreading. Bottlik and other graphic designers always added the name of the promoted good to the beautiful art deco emblem. On this particular maquette the logo appears in a giant hand and TV and Radio is written on it (the same logo was used with various goods, such as an Orion vacuum flask).
This poster maquette is a real quality work, having a monumental effect, despite it is only half finished. The giant hand only gets its texture from the rhythmically alternating pencil strokes. The harmony is created by the contrast between the solid figure of the hand and the clean and plain design of the logo.