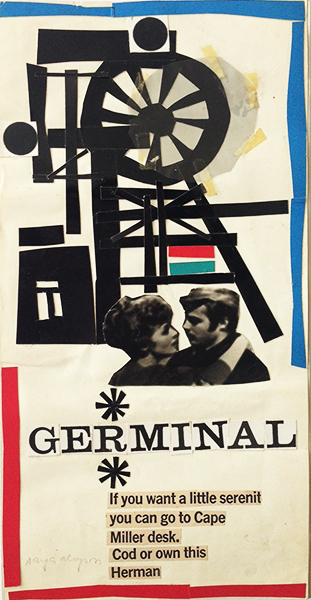 Germinal
Hungarian title:
Germinal
Size:
Tram poster (cca. 24 x 17 cm)
Condition:
Fine. Small stains.
Price: US$2400
Description:
Small original design for a movie poster. Árpád Bognár created this composition with paper cut technique and photomontage. It shows an impressive image, however most probably the poster was never printed.
The movie "Germinal" was a French-Italian-Hungarian co production, based on Emile Zola's novel of 1863.
Etienne Lantier, who has been fired from a railway company for being involved in union activities, lands a miner's job in the North of France. He finds bed and lodging at the Maheus', all of whom being miners themselves and whose daughter Catherine proves susceptible to his charm.The work is hard, ill-paid and dangerous. When the miners hear their wages are going to be cut down they revolt, led by Lantier. The company decides to bring workers in replacement and the authorities repress the rebels ruthlessly. The strike ends in death and suffering but hope for a better future still prevails, in spite of everything… (source: imdb.com)
Original design. Photomontage and collage on cardboard. Size: 26x13,1 cm (closed) / 26x26,2 cm (opened)