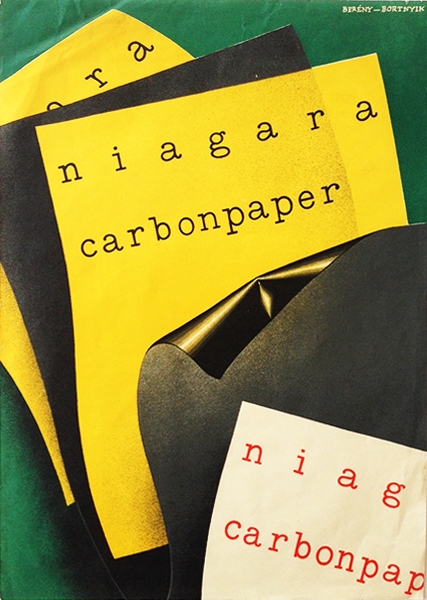 Niagara Carbon Paper
Hungarian title:
Niagara Carbon Paper
Size:
B4 (cca. 25 x 35 cm)
Condition:
Fine, light wear.
Material:
Paper, stone lithography.
Price: US$5000
Description:
Impressive modern poster from the interwar period.
The 1920s-1930s was one of the golden ages of Hungarian poster design. Modernism, Constructivism and Art Deco were the most influential styles during the period. Róbert Berény and Sándor Bortnyik were the two most important poster designers of the time. They were often working together, and for a short time in the mid-1930s they shared an atelier.
This small poster was printed for export purposes in English language, advertising a carbon paper company. It is a modern design with an innovative typography, basic colours and flat-like forms.

It is a perfect representative of the modern poster art of its time.