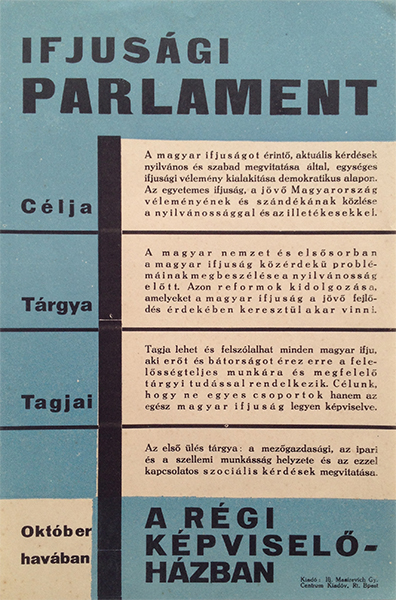 Description:
This small constructivist poster for a Hungarian Youth Parliament has a very exciting history. It was printed in 1932 by the Centrum Publishing Corporation (Centrum Kiadovallalat Rt.). The publisher in charge was Ifj. Masirevich Gyorgy, who was an important modernist architect during the 1930s.
In 1927, he organized the exhibition of architecture students at the Technical University of Budapest. This was the first occasion when modern plans were exhibited in the halls of the institution, and among them were the works of Farkas Molnar. In 1929, he participated in the CIAM Congress in Frankfurt. He became a member of the Hungarian Cirpac-group. He was one of the architects who designed a famous Bauhaus villa in Napraforgo street.
The Youth Parliament was an initiative he worked on with Dr. Laszlo Acsay, another architect. The aim of the event was to engage youth in debate about various social and economic issues.