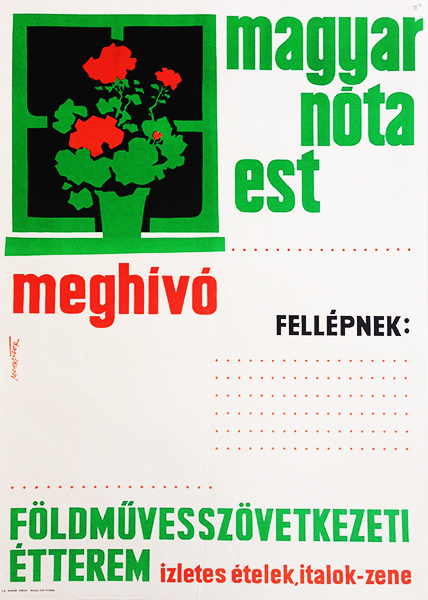 Hungarian song night
Hungarian title:
Magyar nóta est
Size:
B2 (cca. 70 x 50 cm)
Condition:
Fine, light fold marks and wear.
Material:
Paper, offset lithography.
Price: US$240
Description:
Bianco poster for a series of events. An invitation for the Hungarian nóta nights. Nóta is a form of 19th century Hungarian popular song. It is one of a number of styles collectively referred to as cigányzene, which literally means Gipsy music but is used to refer to a number of styles of Hungarian folk music that are played in a typical Gipsy musical style. Nóta includes a variety of tempi, from uptempo friss csárdás via a medium time "Palotas" to slow dramatic tempo rubato ballads (source.wikipedia.org).
The design is built upon the Hungarian tricolor. On the top there is a window in front of which a geranium can be seen. The window frame and the pot are green, the flower is red and the bacground is white. The text on the poster is also green and red. The time and the performers on the event are to be filled out. The nights took place in the restaurant of the Agricultural Cooperation.