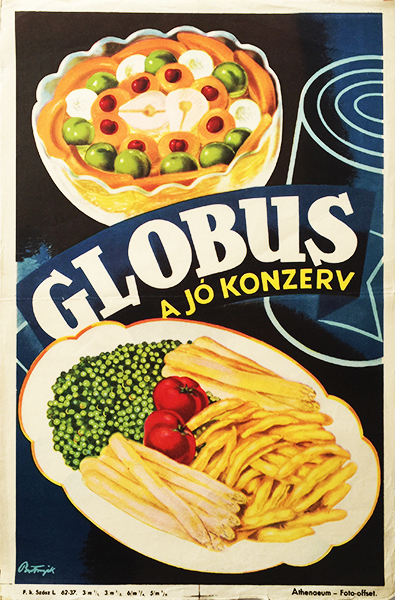 Globus is the good canned food
Hungarian title:
Globus a jó konzerv
Size:
Pre-war 1/4 Sheet (cca. 31 x 48 cm)
Condition:
Fine. Light wear along borders.
Material:
Paper, offset lithography.
Price: US$4000
Description:
Poster for Globus, the canned food manufacturer. Globus was founded in 1882 but was only registered officially in 1924. The factory was very successful, mostly supplying the Hungarian army with preserved meat at the beginning. At the 1930s Globus bought two smaller companies and became the biggest canned food manufacturer in Hungary. The firm has been successful ever since its establishment.
The poster was designed by Sándor Bortnyik, a leading character in the evolution of Hungarian poster art. Before 1933 he designed modernist-constructivist posters what he was a pioneer in. In 1933 he published an article about the death of the modernist poster style and he started to work in a completely different style where the colours are soft, the images are more painting-like. The Globus poster is a great example of this period. It depicts different vegetables - pea, tomato, asparagus, etc. - and fruits - apple, pear, peach, etc. - neatly arranged on the plates. The text becomes an organic part of the composition by incorporating it to the stylized picture of a can.