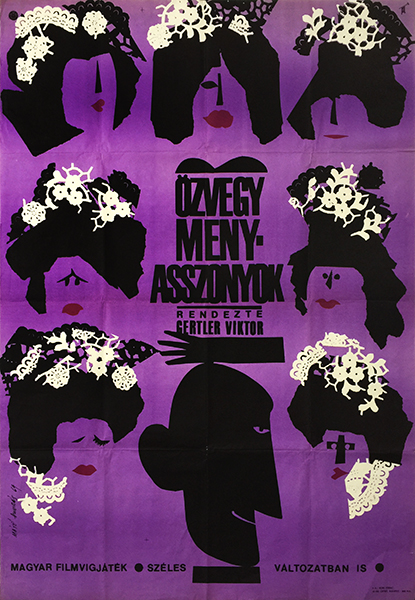 Widowed Brides
Hungarian title:
Özvegy menyasszonyok
Size:
B1 (cca. 100 x 70 cm)
Condition:
Fine, fold marks.
Material:
Paper, offset lithography.
Price: US$800
Description:
Poster for a Hungarian black and white film adaptation of the novel of Ágnes Fedor.
The film chronicles the rebellion of an individual. A cab driver disappears who was knocked down by his attackers, but although it might seem evident that he was robbed, the plice soon finds out that the gulity one is the driver. His sin is telling women that he's gonna marry them in order to manipulate them. The policeman who finds him doesn't understand how the driver, who is not very charming , could seduce seven women who now claim to be his wife. Then he tries to learn his tricks , but he doesn't manage to entice anybody. The trick is very simple: the one who wants to seduce has to feel free inside. Wearing a uniform and being married doen't help. At the end of the story the taxi driver also loses his independence, he gets married to one of the seven ladies but it seems to be more complicated than he expected. The main roles were played by Erzsi Máthé, Dezső Garas and Sándor Pécsi who were among the most popular Hungarian actors at the time.
The decorative poster was made in a style fashionable in the 1960s. The author used strong colours, purple, black and white, and paper cut out technique. He depicted the seven brides wearing laces. Despite only a few elements of their faces are pictured, Máté achieved to put defferent expressions on each of the faces. In the middle, embraced by the seven ladies, the taxi driver's profile appears. Again, it's a stylized simple image, yet, reflects the character's personality perfectly.