Máté András
1921 - 2000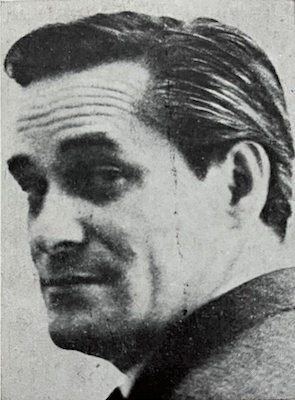 Máté András
András Máté was a central figure of the generation of artists that kicked off in the late 1950s, His designs have a lyrical, delicate, and harmonic character. He was one of the most talented and frequently commissioned poster artists of his time. He worked using a wide array of techniques, including photomontage, line drawing, and paper-cut, typographic elements and expressive painting. He designed countless outstanding posters.
Máté studied at the University of Applied Arts between 1946 and 1947, as well as at the University of Fine Arts. He studied in Konecsni's class along with Darvas, Ernyei, Zala and Zelenák. Movie posters play an important role in Máté's oeuvre as he often designed posters for MOKÉP (Hungarian film company). In addition, he created many touristic and cultural posters.
Being an extremely multi-faceted figure, Máté was also active at exhibitions, fairs, image-, publication- and packaging design. He created several logos and emblems and he worked as interior designer too. From 1963 on he was member of the Papp-group.
Máté had already made some picturesque designs by the beginning of the 1950s. The poster of the poster exhibition in 1956 depicting a rooster was designed by Máté. The rooster appears in front of a blue background and the strokes of the brush are well visible. Máté's works show the expressive painting-like poster style that replaced the dreary socialist realism after 1956.
Máté was one of the leading artists in the golden age of the film poster in the 1960s. He used a large variety of techniques, such as thin drawing lines, burned (strongly contrasted) photographs, montage, paper-cut, brush painting, etc. He had a humorous attitude that veered close to grotesque and irony. Máté had the opportunity to design posters for the greatest films of the time, such as Dolce Vita, The Night, East of Eden, and others. His designs show the influence of op art and pop art, but they are nonetheless very original and brilliant compositions. He was always effected by current artistic trends, but only slightly, as he was always capable of keeping his own style.
Beyond movies, he designed all types of posters, including commercial, propaganda and event posters. Besides, Máté often worked on posters for tourism, for the national bus company IBUSZ and the airline company Malév. In the 1960s, he made a series of posters for the Hungarian Airlines Malév, which depict famous Hungarian and foreign sites. These travel posters are evidence of his unique talent, as he invented a new "neo-secessionist" style for them. The compositions consist of many decorative colourful shapes that give a enhancing mosaic-like effect to the posters. These compositions show Máté's special talent for colour harmonies.
In the 1970s, Máté was still designing outstanding movie posters. The then contemporary Hungarian art also had an impact on his approach, especially the geometric abstract paintings of Imre Bak and Pál Deim. .
Available posters by this artist