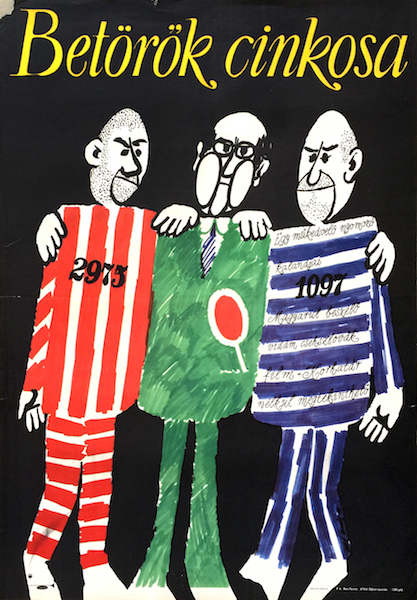 Two Tigers
Hungarian title:
Betörők cinkosa
Size:
A1 1 Sheet (cca. 84 x 59 cm)
Condition:
Very good, light fold marks, tears along the border, paper loss in the upper left corner.
Price: US$280
Description:
Andras Mate - Two Tigers 1967 vintage Hungarian movie poster Dva Tygri czechoslovakian film
Two Tigers (original title: Dva Tygri) is a 1966 Czechoslovakian film directed by Pavel Blumenfeld and starring Josef Beyvl, Bozena Böhmová, Jaroslav Cmíral.
Eduard Lebeda (Lubomír Lipský) works at the dispatch department of a costume jewellery factory, but first and foremost, he is an enthusiastic member of the voluntary auxiliary police guards. In the evening, as usual, he heads for the streets of the little town to direct the traffic with his police control disk. Before he leaves, he confiscates his small son's matches. The matches have a label with two tigers on it. In front of the self-service store, two men load cases onto a lorry with the German trademark Garant. Lebeda fails to notice their nervousness and helps them with their work. He lends the matches to the driver. The roaring of a departing motorbike diverts his attention and the lorry drives off. The next day a rumor spreads about a robbery in the self-service store and Lebeda realizes that he has been an accomplice. (source: imdb.com)