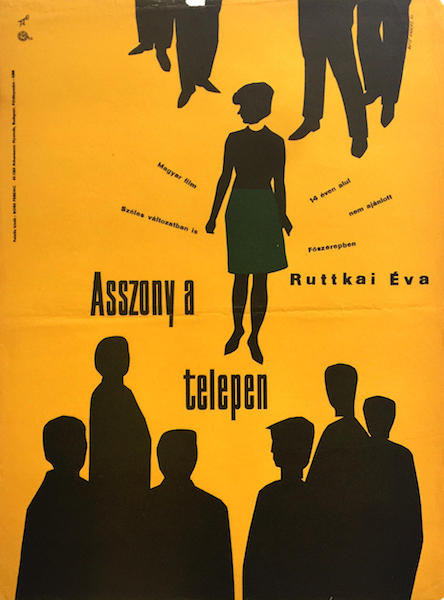 Woman at the Industrial Site
Hungarian title:
Asszony a telepen
Size:
A2 1/2 Sheet (cca. 59 x 42 cm)
Condition:
Very good, light fold marks and wear, some paper loss.
Material:
Paper, offset lithography.
Price: US$240
Description:
Woman at the Industrial Site is a 1963 vintage Hungarian movie poster designed by Andras Mate.
Director: Imre Fehér
Writer: Imre Vadász
Stars: Béla Barsi, Árpád Benedek, Gyula Benkö
(source: imdb.com)
Tóth Viktor, the tough driver, has been subjected to a disciplinary investigation procedure and now he has found a new job at an industrial plant. The men who work there unanimously respect the plant manager, Mrs. Szekeres. Her relationship with chief engineer Szabó is publicly known. Tóth, though undisciplined, is a good driver and he is soon promoted to a team leader. The careerist Malczer is scheming against him. Viktor falls in love with Éva, but courts also Julika. Éva is not willing to break with Szabó and is afraid of Viktor's love because he is younger than herself. The long-lasting, wearisome work and the abatement of a natural gas outbreak wear on Viktor so much that he temporarily loses his eyesight. Éva becomes upset at a meeting. She does not want to be considered as a saint, she is just like anyone else. Viktor calls Éva's name, but takes Julika, who hurries up to him, for Éva. Julika runs away crying.
(source: mandarchiv.hu)