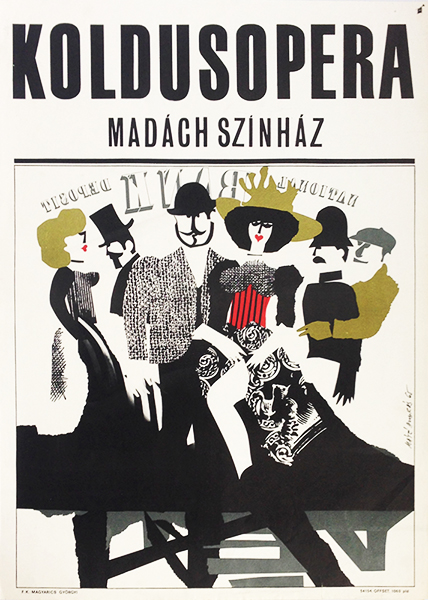 Threepenny opera
Hungarian title:
Koldusopera
Size:
B2 (cca. 50 x 70 cm)
Condition:
Fine, light fold marks and wear, small tears.
Material:
Paper, offset lithography.
Price: US$1600
Description:
Poster for the Hungarian performance of The Threepenny Opera by Bertold Brecht (Original title: Die Dreigroschenoper). The Threepenny Opera is a "play with music", translated by German dramatist Elisabeth Hauptmann from John Gay's 18th-century English ballad opera, The Beggar's Opera with music by Kurt Weill, and insertion ballads by François Villon and Rudyard Kipling as adapted by Bertolt Brecht. The work offers a Socialist critique of the capitalist world. It opened on 31 August 1928 at Berlin's Theater am Schiffbauerdamm. By 1933, when Weill and Brecht were forced to leave Germany by Hitler's Machtergreifung, the play had been translated into 18 languages and performed more than 10,000 times on European stages. Songs from The Threepenny Opera have been widely covered and become standards, most notably "Die Moritat von Mackie Messer" ("The Ballad of Mack the Knife") and "Seeräuberjenny" ("Pirate Jenny"). (source:wikipedia.org). The poster was made with paper cut-out technique in the style common in the 1960s.